Speaker for October
Tim Smith


Topic: Who Were Are the Wobblies?
Date and Time: Wednesday, October 26 at 2 p.m.
Place: Friends of the Libraries Room (Alden 319)

This presentation is an introduction to the radical labor union the Industrial Workers of the World (IWW), often known as the Wobblies. Though founded more than 100 years ago and having their heyday in the early 20th century, the Wobblies are still active today. The presentation will cover the conditions that led to the rise of the IWW, and the main principles, personalities, and events in the history of the organization.
Tim Smith, a reference librarian at Ohio University, has had a long-term amateur's interest in the IWW. In his first library job, as a clerk in a dental school library, he was a member of AFSCME, which is his only experience as an actual member of a labor union.
Video of Tim Smith's Presentation
Part 1 (about 30 minutes)
Part 2 (about 30 minutes)
Part 3 (about 20 minutes)
A few resources on the Wobblies
Over the years--and especially since the 1960s--there has been an inordinate amount of publishing done on the IWW. Below are just a very few places to go for more information (and entertainment) on this groundbreaking labor organization. Links are provided to those items in the Ohio University Libraries.
Books
Dubofsky, Melvyn. We Shall Be All: A History of the Industrial Workers of the World.Chicago: Quadrangle Books, 1969.
Foner, Philip. History of the Labor Movement in the United States. Vol. 4: The Industrial Workers of the World, 1905-1917. New York: International Publishers, 1965.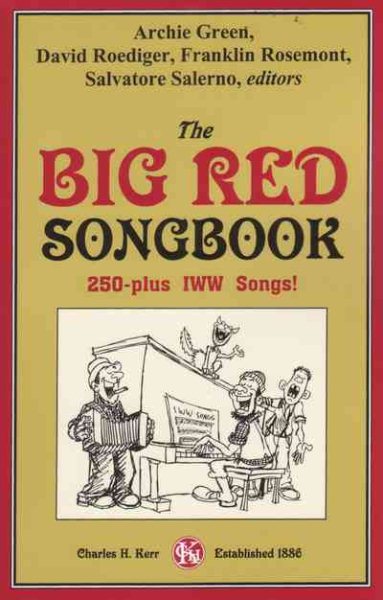 Green, Archie and Judy Branfman (eds.). Big Red Songbook. Chicago: Charles H. Kerr, 2007. [Cumulation of lyrics—no musical notation—from the many versions of The Little Red Songbook Also includes a number of interesting essays on related topics.]

Kornbluh, Joyce L. (ed.). Rebel Voices: An IWW Anthology. New and expanded ed. Chicago: Charles H. Kerr, 1988. [Compilation of a huge array of primary source documents]

Lukas, J. Anthony. Big Trouble: a Murder in a Small Western Town Sets off a Struggle for the Soul of America. New York: Simon and Schuster, 1997.

Rosemont, Franklin. Joe Hill: The IWW & The Making of a Revolutionary Working Class Counterculture. Chicago: Charles H. Kerr, 2003.

Thompson, Fred. The Industrial Workers of the World: Its First One Hundred Years: 1905 Through 2005. Chicago: Industrial Workers of the World, 2006.

Databases

The databases listed below have numerous records for articles on the IWW. Note that access to them is restricted to members of Ohio University.

Music

Don't Mourn - Organize!: Songs Of Labor Songwriter Joe Hill. Washington, DC: Smithsonian Folkways, 1992.

Glazer, Joe. Songs of the Wobblies: I Will Win. Washington, DC: Smithsonian Folkways Recordings, 2011.

Rebel Voices: Industrial Workers of World. Chicago: Flying Fish Records, 1993.

Videos

An Injury to One. Presented by First Run / Icarus Films, 2002. [Focuses on the lynching of Frank Little in Butte, Montana in 1917.]

The Wobblies. Stewart Bird and Deborah Shaffer. Docurama, 2006. DVD. Complete video also available on YouTube: http://www.youtube.com/watch?v=GLWHXzeg5Ho [Good overview of the IWW; photos, old movie clips, first-person interviews with surviving Wobblies]

Websites

Acott, Tim. "Think It Over: An introduction to the Industrial Workers of the World." <http://libcom.org/library/think-it-over-introduction-industrial-workers-world-tin-acott>.

Crutchfield, Jim. "Crutchfield's I.W.W. Page." <http://www.workerseducation.org/crutch/>. [Lots of primary source documents.]

"Industrial Workers of the World: One Big Union!" <http://www.iww.org/>. [The official site of the IWW]

Phillips, Duncan. "The Long Memory." <http://www.thelongmemory.com/> [Memorial site for Utah Phillips, maintained by one of his sons.]